Mikaela's Visible Difference Story
Mikaela is 28 and has a a genetic disorder called Crouzon syndrome which affects the shape of the head and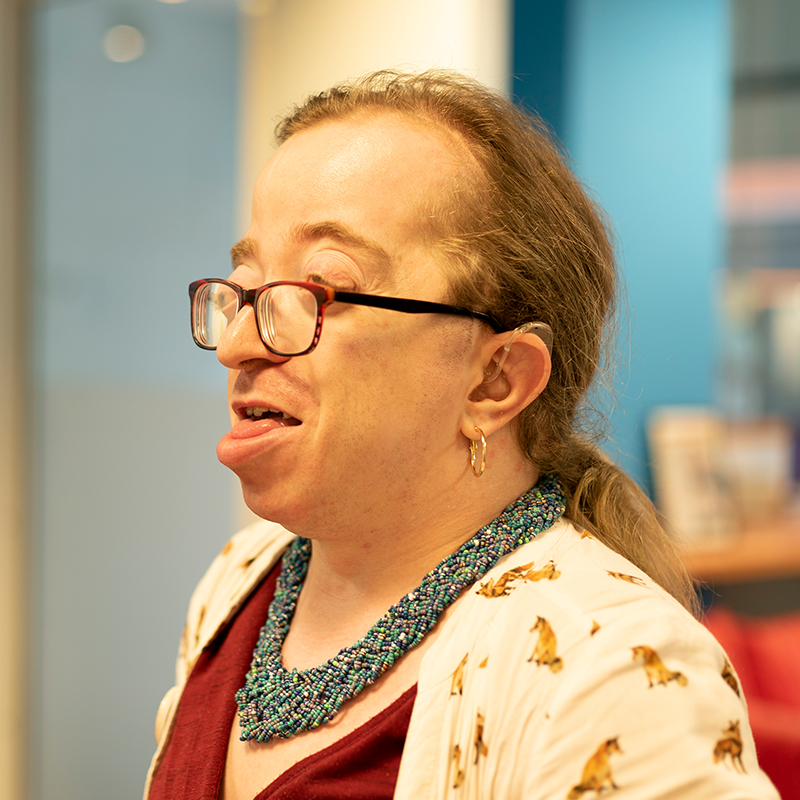 face.
Currently disabled people are not cast in roles on stage and screen at all. They are not even cast as disabled people, and instead able-bodied actors are used in their place.
Mikaela has Crouzon syndrome, which is a genetic disorder characterized by the premature fusion of certain skull bones (craniosynostosis). This early fusion prevents the skull from growing normally and affects the shape of the head and face. In her early years, she had lots of operations and required a helper to accompany her to school.
"Kids would shout things like 'big eyes' at me, but generally I don't remember much bullying when I was young. I think I've blocked it out. I spent a lot of time in hospital or recovering at home and so got into listening to music and watching Disney. Secondary school was harder. It was a big school and I barely had the energy to walk between the classrooms. I was also being bullied. I felt left behind and so when I was 13 I moved to a special education school.
"After sixth form, I took two years off because of anxiety and exhaustion. I then went to university, which meant living away from home for the first time. I was quite lonely for the first six months because it took time to make friends because of my visible difference."
After university, Mikaela took a masters in musical theatre. She then took some time out before finding work at a tourist attraction. Here she worked in the administration team, selling tickets and fulfilling orders.
"It was my first job and overall it was a good experience as I found it empowering. However, I did have one horrible moment when a man told me that I was stupid because I was slow. Comments like that are quite rare, but I am conscious of "unintentional micro-aggressions" such as people staring. However, because I have a visible difference and I am trans, it is difficult to separate the two."
Having studied writing and musical theatre, Mikaela is interested in how people with visible differences are represented in the media and creative industries. She believes passionately that it is time for more people with disfigurements to be cast in roles on stage and screen.
"Currently disabled people are not cast at all. They are not even cast as disabled people, and instead able-bodied actors are used in their place. There is some inclusive theatre featuring disabled actors and directed by disabled people. But marginalized people deserve to be seen and included in the mainstream. There should be space for both. The aim is that eventually people with disfigurements would be cast in roles that are not about their difference, but just being cast as character with a visible difference would be an important first step."
Mikaela's advice for other people with a visible difference is to "own it".
"Make peace with the fact you are visually different and then work towards owning it and seeing it as positive. Don't blame yourself for the condition. Crouzon's is not my fault, it just happened and so I live with it. I would not be Mikaela without it."
Have a visible difference story? Share yours using #MyVisibleDifference on social media or on our Tell Your Story page.