Currently only around two in 10 of the clients we support through our wellbeing services are men.
Three-quarters of men with a visible difference or disfigurement tell us that men do not talk about their appearance – while agreeing that there should be more of these conversations among men.
On this page, we discuss the challenges faced by men, explore the stories of men with visible difference and share information about the You're Not Alone campaign and the support we can offer.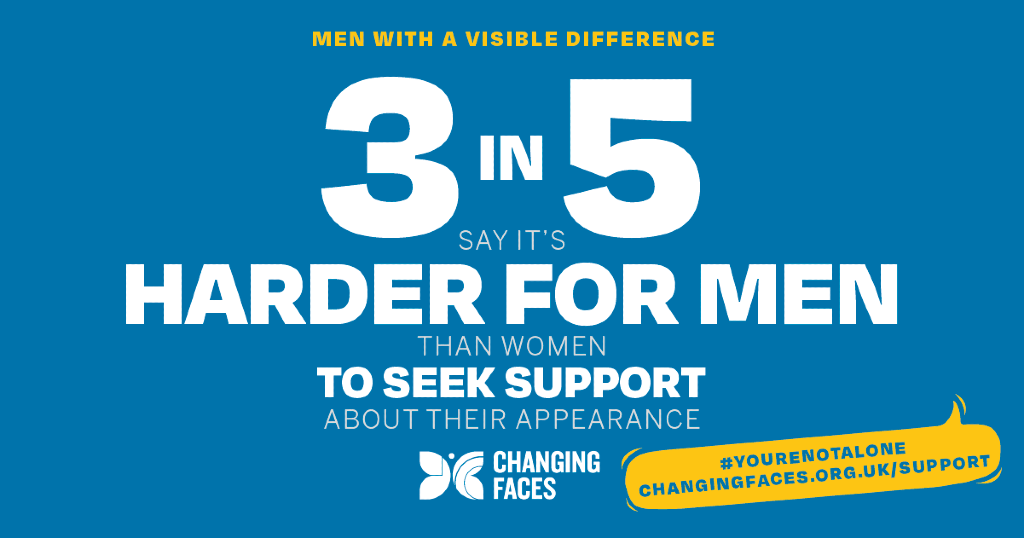 Men face a double challenge
Our research with over 1,000 men highlighted how men with a visible difference are contending with a double challenge. As well as handling the reactions of others, they live in a society where talking about appearance is still more acceptable for women than men.
You can read more about our research here.
Changing Faces ambassador and actor Adam Pearson says:
"When I look back at the young man I was, to the person I have become, I am very proud of him. It's not always easy looking different in a world that is so focused on perfection.
Growing up there were no positive role models of people with disfigurements in the media. So now I'm on a mission to be more visible. I speak out and share my experiences, because if it helps one more man, or woman, feel able to share how they're feeling about their appearance, that's a job well done."
You're Not Alone
Our campaigners and ambassadors want more men with visible differences to know that they are not alone and that there are services and support available for anyone who needs them. That's why they launched the You're Not Alone campaign.
Campaigners like Olu, Ryan and Peter are all speaking out, sharing their stories and experiences so more men with visible differences see and hear someone they can relate to.
Our research also found that a quarter (23%) of men with a visible difference feel they are a stronger person because of looking different.
There's a special podcast episode all about this campaign, celebrating visible differences and discussing some of the challenge's men can face. Listen and share so more people can be part of the conversation:
Changing Faces campaigner, Rory McGuire says:
"When you look different you have to be ready for daily stares and comments. That takes its toll, particularly if you don't feel able to talk about how it makes you feel.
In my late teens I eventually started to speak out. At first, I shared my experiences online. I had positive reactions from all over the world and closer to home, people realised the impact of appearance-related bullying and abuse. Things started to change for the better.
We need men, and women, to know that it's okay to talk about your appearance, and how other people's reactions can make you feel."
Get involved
You could share your story too. Find out how here and sign up to our newsletter to keep up to date with this campaign.